He-man's Episode Emporium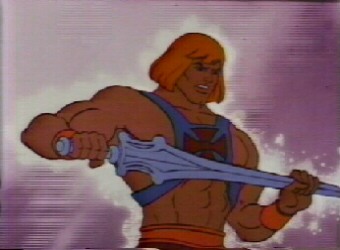 Welcome to He-man's Episode Emporium, the ultimate source on the internet for Masters of the Universe factory produced cartoons. As on my other video tape pages, I'll List what I have, but unlike the others, I won't tell you what I need, unless it is a factory made tape. The Reason for this is that I only own what was put out on home video by RCA/Columbia Home Video, and I don't have any television recorded episodes. If their are any people out there with television recorded episodes that are not listed here, please e-mail me. We can discuss a possible trade or exchange of some kind. Most of these tapes are previously viewed, but some are still factory sealed. My supply is changing constantly, so send me an e-mail for prices and availability. If this doesn't meet your needs, I can copy them for $7.00 + shipping per full tape, which holds approximately 4 episodes in high quality SP mode only. But enough talk; on with the list!

---
NOW AVAILABLE!
The He-man/She-ra Christmas Special is now available! These are factory sealed tapes made by UAV entertainment. However, it is on Back-order and takes 4-6 weeks to recieve upon reciept of your order. E-mail Me to confirm your order. The cost is $14.99 + shipping, which is $4.01 in for US orders, and $7.01 for Canadian orders.

---

---
Here's what I have:

---
He-man and The Masters Of The Universe
Like Father, Like Daughter
The Time Corridor
The Dragon Invasion
Curse Of The Spellstone
Creature From The Tar Swamp
She-Demon Of Phantos
Diamond Ray Of Disappearance
Teela's Quest
Colossor Awakes
Song Of Celice
Dawn Of The Dragon
Pawns Of The Game Master
Return Of Granymyr
Prince Adam No More
The Taking Of Castle Greyskull
Dalmar The Demon
The Dragon's Gift
Return Of Orko's Uncle
The Mystery Of Man-E-Faces
Disappearing Act
Evil-Lyn's Plot
The House Of Shokoti #1
The House Of Shokoti #2
Quest For The Sword
Orko's Favorite Uncle
Tale Of Two Cities
Heart Of A Giant
Starchild
Orko's Missing Magic
Dree Elle's Return
Game Plan
Double-edged Sword
Quest for He-man
Wizard Of Stone Mountain
Evilseed
A Friend In Need
A Beastly Sideshow
The Sleepers Awake
Rarest Gift Of All
To Save Skeletor
Skeletor's Revenge #1
Skeletor's Revenge #2
Skeletor's Revenge #3
The Energy Beast
The Gamesman
Fisto's Forest
Great Books Mystery
Origin Of The Sourceress
The Rarest Gift Of All
Island Of Fear
Betrayal Of Stratos
The Ice Age Cometh
Disappearing Dragons
The Shadow Of Skeletor
The Arena
He-man/She-ra Christmas Special (only available as factory sealed video)
---
Here's some of the episodes that I NEED:
Any episodes that anyone has that was not put out on video back in the eghties that THEY PERSONALLY recorded themselves from the TV back when it was on the air.
---
She-ra, Princess Of Power
The Missing Axe
The Crystal Castle
The Laughing Dragon
A Talent For Trouble
Huntara
For Want OF A Horse
The Anxious Apprentice
Unexpected Ally
Anchors Aloft #1
Anchors Aloft #2
Wild Child
Friendship
The Sea Hawk
Return Of The Sea Hawk
Duel At Devlan
The Reluctant Wizard
The Stone In The Sword
Gateway To Trouble
---
---
---